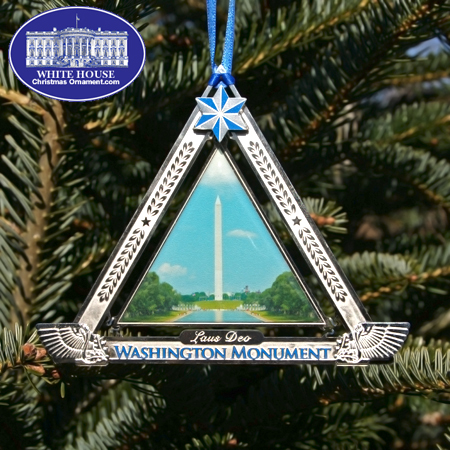 $21.00

PRODUCT ID : 9813028WH
Mount Vernon, December 25, 1787
- Excerpt from President George Washington Christmas Day Letter

Mrs. Washington joins me in the Compliments of the season, and in wishing you many happy returns of it.

I am your most obedient servant.

George Augustine Washington

The White House Ornament Collection presents the 2010 George Washington Monument Holiday Ornament.

George Washington is most popularly known as the "Father of our Country" due to the fact he was the first elected Commander in Chief of the newly founded United States of America. George Washington was born in Westmoreland County, Virginia: not as an US citizen, but rather as a British colonist. Son of Augustine and Mary Ball Washington, he was raised with no formal education but had a keen interest in expanding Western civilization and the military arts. During what would become the American Revolution, Washington attended the Second Continental Congress donning his military uniform as a sign that, as a peaceful man he would prefer not to go to war, but as a soldier he was indeed ready for war.

On June 14, 1775, the Second Continental Congress created the Continental Army and appointed Washington a Major General. Elected by the same Congress (at the same time) as the country's first Commander in Chief, it was at that moment a legend was born.

This Christmas Gift Idea can serve as either a handsome Christmas display or a White House Christmas Tree Ornament. Whether you are looking for a holiday ornament, a tree ornament, or Christmas collectable, this gift will make any Christmas a White Christmas. Own a moment of American history.
Delivery Time - 5 - 10 Business days.

Our Return Policy - White House Christmas Ornament Co. will pay the return shipping cost if the return is a result of our error. Please note that we are unable to exchange items. All sales are final.


Payment methods accepted









Billing Questions please call 202.285-3238